Product Summary
The W9425G6JH-5 is a CMOS Double Data Rate synchronous dynamic random access memory (DDR SDRAM), organized as 4,194,304 words×4 banks×16 bits. W9425G6JH delivers a data bandwidth of up to 500M words per second (-4). To fully comply with the personal computer industrial standard, W9425G6JH-5 is sorted into the following speed grades: -4, -5 and -5I. The -4 is compliant to the DDR500/CL3 and CL4 specification. The -5/-5I is compliant to the DDR400/CL3 specification (the -5I grade which is guaranteed to support -40°C ~ 85°C).
Parametrics
W9425G6JH-5 absolute maximum ratings: (1)Input/Output Voltage: -0.5 ~ VDDQ + 0.5 V ; (2)Power Supply Voltage: -1 ~ 3.6 V; (3)Operating Temperature (-4/-5): 0~70°C; (4)Operating Temperature (-5I): -40~ 85°C; (5)Storage Temperature: -55 ~ 150°C; (6)Soldering Temperature (10s): 260°C; (7)Power Dissipation: 1 W; (8)Short Circuit Output Current: 50mA.
Features
W9425G6JH-5 features: (1)2.5V ±0.2V Power Supply for DDR400 ; (2)2.4V~2.7V Power Supply for DDR500 ; (3)Up to 250 MHz Clock Frequency ; (4)Double Data Rate architecture; two data transfers per clock cycle ; (5)Differential clock inputs; (6)DQS is edge-aligned with data for Read; center-aligned with data for Write ; (7)CAS Latency: 2, 2.5, 3 and 4 ; (8)Burst Length: 2, 4 and 8 ; (9)Auto Refresh and Self Refresh ; (10)Precharged Power Down and Active Power Down ; (11)Write Data Mask ; (12)Write Latency = 1 ; (13)7.8μS refresh interval (8K/64 mS refresh) ; (14)Maximum burst refresh cycle: 8 ; (15)Interface: SSTL_2 ; (16)Packaged in TSOP II 66-pin, using Lead free materials with RoHS compliant.
Diagrams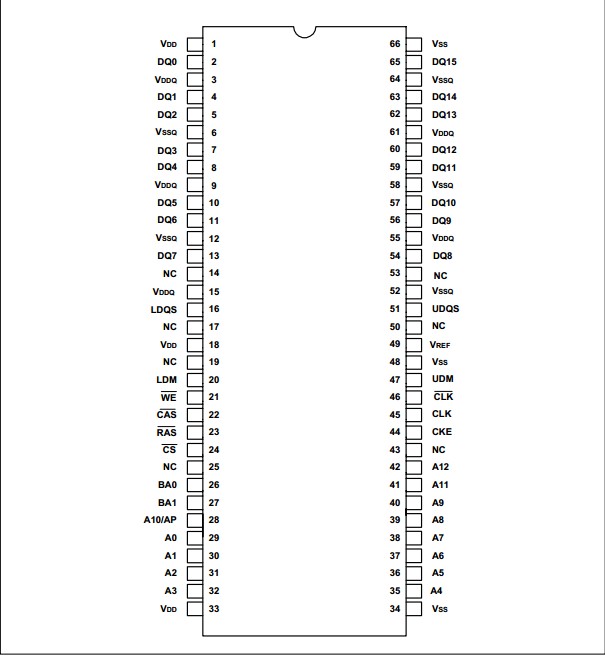 Image
Part No
Mfg
Description
Pricing
(USD)
Quantity

W9425G6JH-5I



IC DDR SDRAM 256MBIT 66TSOPII

Data Sheet



| | |
| --- | --- |
| 0-1: | $1.66 |
| 1-10: | $1.49 |
| 10-25: | $1.47 |
| 25-50: | $1.46 |
| 50-100: | $1.31 |
| 100-250: | $1.26 |
| 250-500: | $1.26 |
| 500-1000: | $1.17 |
| 1000-2500: | $1.15 |

Image
Part No
Mfg
Description
Pricing
(USD)
Quantity

W942508BH

Other



Data Sheet

Negotiable

W942508CH

Other



Data Sheet

Negotiable

W942516AH

Other



Data Sheet

Negotiable

W942516BH

Other



Data Sheet

Negotiable

W942516CH

Other



Data Sheet

Negotiable

W9425G6EH-5



IC DDR-400 SDRAM 256MB 66TSSOPII

Data Sheet

Negotiable