Product Summary
The UCC2804D is a low-power bicmos current-mode PWM. The UCC2804D family of high-speed, low-power integrated circuits contain all of the control and drive components required for off-line and DC-to-DC fixed frequency current-mode switching power supplies with minimal parts count.These devices have the same pin configuration as the UC1842/3/4/5 family, and also offer the added features of internal full-cycle soft start and internal leading-edge blanking of the current-sense input.
Parametrics
UCC2804D absolute maximum ratings: (1)VCC Voltage: 12.0V; (2)VCC Current: 30.0mA; (3)OUT Current: ±1.0A; (4)OUT Energy (Capacitive Load): 20.0μJ; (5)Analog Inputs (FB, CS):–0.3V to 6.3V; (6)Power Dissipation at TA < +25°C (N or J Package): 1.0W; (7)Power Dissipation at TA < +25°C(D Package): 0.65W; (8)Power Dissipation at TA < +25°C (L Package): 1.375W; (9)Storage Temperature Range: –65°C to +150°C; (10)Lead Temperature (Soldering, 10 Seconds): +300°C.
Features
UCC2804D features: (1)100μA Typical Starting Supply Current; (2)500μA Typical Operating SupplyCurrent; (3)Operation to 1MHz; (4)Internal Soft Start; (5)Internal Fault Soft Start; (6)Internal Leading-Edge Blanking of the Current Sense Signal; (7)1 Amp Totem-Pole Output; (8)70ns Typical Response from Current-Sense to Gate Drive Output; (9)1.5% Tolerance Voltage Reference; (10)Same Pinout as UC3842 and UC3842A.
Diagrams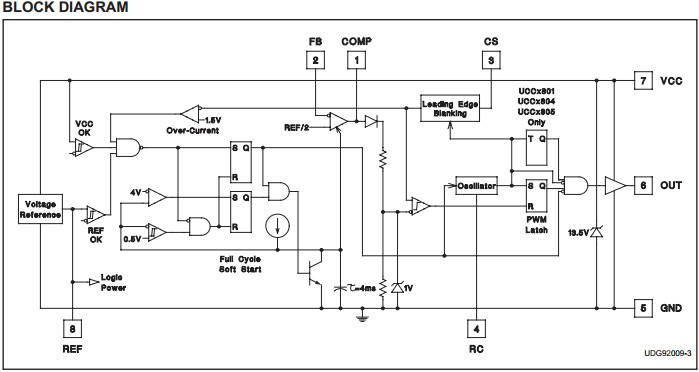 Image
Part No
Mfg
Description
Pricing
(USD)
Quantity

UCC2804D

Texas Instruments

Current Mode PWM Controllers Low-Power BiCMOS Current-Mode PWM

Data Sheet



| | |
| --- | --- |
| 0-1: | $2.04 |
| 1-25: | $1.87 |
| 25-100: | $1.49 |
| 100-250: | $1.31 |


UCC2804D/81221

Texas Instruments

Current Mode PWM Controllers Lo-Pwr BiCMOS Crnt Mode PWM

Data Sheet

Negotiable

UCC2804DG4

Texas Instruments

Current Mode PWM Controllers Low-Power BiCMOS Current-Mode PWM

Data Sheet



| | |
| --- | --- |
| 0-1: | $2.04 |
| 1-25: | $1.72 |
| 25-100: | $1.49 |
| 100-250: | $1.31 |


UCC2804DTR

Texas Instruments

Current Mode PWM Controllers Low-Power BiCMOS Current-Mode PWM

Data Sheet



| | |
| --- | --- |
| 0-1860: | $0.97 |
| 1860-2000: | $0.94 |
| 2000-2500: | $0.94 |
| 2500-5000: | $0.90 |


UCC2804DR81221G4

Texas Instruments

Current Mode PWM Controllers Lo-Pwr BiCMOS Crnt Mode PWM

Data Sheet

Negotiable

UCC2804D/81221G4

Texas Instruments

Current Mode PWM Controllers Lo-Pwr BiCMOS Crnt Mode PWM

Data Sheet

Negotiable

UCC2804DTRG4

Texas Instruments

Current Mode PWM Controllers Low-Power BiCMOS Current-Mode PWM

Data Sheet



| | |
| --- | --- |
| 0-1860: | $0.97 |
| 1860-2000: | $0.94 |
| 2000-2500: | $0.94 |
| 2500-5000: | $0.90 |


UCC2804DTR/81221

Texas Instruments

Current Mode PWM Controllers Lo-Pwr BiCMOS Crnt Mode PWM

Data Sheet

Negotiable