Product Summary
The TLV5610IPWRG4 is an 8-channel, 12-/10-/8-bit, 2.7-V TO 5.5-V low power digital-to analog converter. The TLV5610IPWRG4 is pin-compatible, eight-channel, 12-/10-/8-bit voltage output DACseach with a flexible serial interface. The serial interface allows glueless interface to TMS320 and SPI, QSPI, and Microwire serial ports. It is programmed with a 16-bit serial string containing 4 control and 12 data bits. Additional features are a power-down mode, an LDAC input for simultaneous update of all eight DAC outputs, and a data output which can be used to cascade multiple devices.
Parametrics
TLV5610IPWRG4 absolute maximum ratings: (1)Supply voltage (AVDD, DVDD to GND): 7 V; (2)Reference input voltage: - 0.3 V to AVDD + 0.3 V; (3)Digital input voltage range: - 0.3 V to DVDD + 0.3 V; (4)Operating free-air temperature range, TA: -40°C to 85°C; (5)Storage temperature range, Tstg: -65°C to 150°C; (6)Lead temperature 1,6 mm (1/16 inch) from case for 10 seconds: 260°C.
Features
TLV5610IPWRG4 features: (1)Eight Voltage Output DACs in One Package: TLV5610-12-Bit; (2)Programmable Settling Time vs Power Consumption: – 1 μs In Fast Mode/– 3 μs In Slow Mode; (3)Compatible With TMS320 and SPI(TM) SerialPorts; (4)Monotonic Over Temperature; (5)Low Power Consumption: – 18 mW In Slow Mode at 3-V; (6)Reference Input Buffers; (7)Power-Down Mode; (8)Buffered, High Impedance Reference Inputs; (9)Data Output for Daisy-Chaining.
Diagrams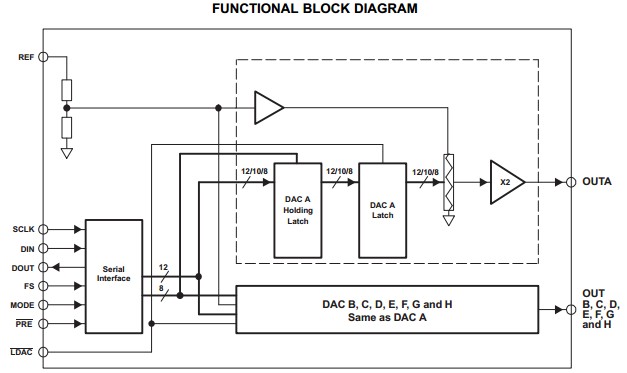 Image
Part No
Mfg
Description
Pricing
(USD)
Quantity

TLV5610IPWRG4

Texas Instruments

DAC (D/A Converters) 2.7V to 5.5V 12-Bit 8-Ch Ser

Data Sheet



| | |
| --- | --- |
| 0-1562: | $7.78 |
| 1562-2000: | $7.54 |

Image
Part No
Mfg
Description
Pricing
(USD)
Quantity

TLV5510

Other



Data Sheet

Negotiable

TLV5510EVM

Texas Instruments

EVALUATION BOARD / TLC5510

Data Sheet

Negotiable

TLV5510INS

Texas Instruments

IC 8-BIT HS A/D CONV 24-SOP

Data Sheet

Negotiable

TLV5510IPW

Texas Instruments

IC 8-BIT HIGH SPEED A/D 24-TSSOP

Data Sheet



| | |
| --- | --- |
| 1-25: | $1.89 |
| 25-100: | $1.47 |
| 100-250: | $1.40 |
| 250-500: | $1.37 |
| 500-1000: | $1.34 |
| 1000-2500: | $1.31 |
| 2500-5000: | $1.26 |


TLV5535

Other



Data Sheet

Negotiable

TLV5535EVM

Texas Instruments

Data Conversion IC Development Tools TLV5535 Eval Mod

Data Sheet