Product Summary
The TLV274ID is a 550-UA/CH 3-MHZ rail to rail output operational amplifier. The TLV274ID takes the minimum operating supply voltage down to 2.7 V over the extended industrial temperature range while adding the rail-to-rail output swing feature. This makes it an ideal alternative to the TLV274ID family for applications where rail-to-rail output swings are essential. The TLV27x also provides 3-MHz bandwidth from only 550 μA.
Parametrics
TLV274ID absolute maximum ratings: (1)Supply voltage, VDD: 16.5 V; (2)Differential input voltage, VID: ±VDD; (3)Input voltage range, VI: -0.2 V to VDD + 0.2 V; (4)Input current range, II: ±10 mA; (5)Output current range, IO: ±100 mA; (6)Continuous total power dissipation: See Dissipation Rating Table; (7)Maximum junction temperature, TJ: 150°C; (8)Storage temperature range, Tstg: -65°C to 150°C; (9)Lead temperature 1,6 mm (1/16 inch) from case for 10 seconds: 260°C.
Features
TLV274ID features: (1)Rail-To-Rail Output; (2)Wide Bandwidth 3 MHz; (3)High Slew Rate 2.4 V/μs; (4)Supply Voltage Range: 2.7 V to 16 V; (5)Supply Current 550 μA/Channel; (6)Input Bias Current 1 pA.
Diagrams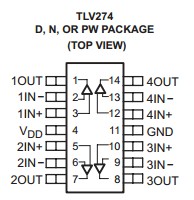 Image
Part No
Mfg
Description
Pricing
(USD)
Quantity

TLV274ID

Texas Instruments

Operational Amplifiers - Op Amps 550-uA/Ch 3-MHz R-to-R Otpt Oper Amp

Data Sheet



| | |
| --- | --- |
| 0-1: | $0.92 |
| 1-25: | $0.81 |
| 25-100: | $0.64 |
| 100-250: | $0.58 |


TLV274IDG4

Texas Instruments

Operational Amplifiers - Op Amps 550-uA/Ch 3-MHz R-to-R Otpt Oper Amp

Data Sheet



| | |
| --- | --- |
| 0-1: | $0.84 |
| 1-25: | $0.68 |
| 25-100: | $0.61 |
| 100-250: | $0.56 |


TLV274IDR

Texas Instruments

Operational Amplifiers - Op Amps Quad 3MHz R/R

Data Sheet



| | |
| --- | --- |
| 0-1: | $0.80 |
| 1-25: | $0.63 |
| 25-100: | $0.57 |
| 100-250: | $0.50 |


TLV274IDRG4

Texas Instruments

Operational Amplifiers - Op Amps 550-uA/Ch 3-MHz R-to-R Otpt Oper Amp

Data Sheet



| | |
| --- | --- |
| 0-1730: | $0.35 |
| 1730-2000: | $0.33 |
| 2000-2500: | $0.33 |
| 2500-5000: | $0.32 |