Product Summary
The TLC2272CDR is a advanced lincmostm rail-to rail operational amplifier. The TLC2272CDR is dual and quadruple operational amplifiers from Texas Instruments. Both devices exhibit rail-to-rail output performance for increased dynamic range in single- or split-supply applications. The TLC2272CDR family offers 2 MHz of bandwidth and 3 V/μs of slew rate for higher speed applications. These devices offer comparable ac performance while having better noise, input offset voltage, and power dissipation thanexisting CMOS operational amplifiers.
Parametrics
TLC2272CDR absolute maximum ratings: (1)Supply voltage, VDD+ (see Note 1): 8 V ; (2)Supply voltage, VDD- (see Note 1) : -8 V; (3)Differential input voltage, VID (see Note 2): ±16 V; (4)Input voltage range, VI(any input, see Note 1) : VDD_-0.3 V to VDD+; (5)Input current, II(any input): ±5 mA; (6)Output current, IO: ±50 mA; (7)Total current into VDD+: ±50 mA; (8)Total current out of VDD-: ±50 mA; (9)Duration of short-circuit current at (or below) 25°C: unlimited; (10)Storage temperature range: -65°C to 150°C.
Features
TLC2272CDR features: (1)Output Swing Includes Both Supply Rails; (2)Low Input Bias Current 1 pA Typ; (3)Fully Specified for Both Single-Supply and Split-Supply Operation; (4)Common-Mode Input Voltage Range Includes Negative Rail; (5)High-Gain Bandwidth 2.2 MHz Typ; (6)High Slew Rate 3.6 V/μs Typ; (7)Low Input Offset Voltage 950 μV Max at TA = 25°C; (8)Macromodel Included; (9)Available in Q-Temp Automotive HighRel Automotive Applications; (10)Configuration Control / Print Support, Qualification to Automotive Standard.
Diagrams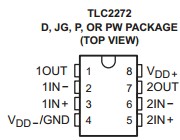 Image
Part No
Mfg
Description
Pricing
(USD)
Quantity

TLC2272CDR

Texas Instruments

Operational Amplifiers - Op Amps Dual R/R Op Amp

Data Sheet



| | |
| --- | --- |
| 0-1: | $1.13 |
| 1-25: | $0.91 |
| 25-100: | $0.82 |
| 100-250: | $0.71 |


TLC2272CDRG4

Texas Instruments

Operational Amplifiers - Op Amps Dual R/R Op Amp

Data Sheet



| | |
| --- | --- |
| 0-1790: | $0.50 |
| 1790-2000: | $0.47 |
| 2000-2500: | $0.47 |
| 2500-5000: | $0.45 |