Product Summary
The STTH1210D is an ultrafast recovery high voltage diode. The high quality design of this diode has produced a device with low leakage current, regularly reproducible characteristics and intrinsic ruggedness. These characteristics make it ideal for heavy duty applications that demand long term reliability. Such demanding applications include industrial power supplies, motor control, and similar mission-critical systems that require rectification and freewheeling. These diodes also fit into auxiliary functions such as snubber, bootstrap, and demagnetization applications. The improved performance in low leakage current, and therefore thermal runaway guard band, is an immediate competitive advantage for this device.
Parametrics
STTH1210D absolute maximum ratings: (1)Repetitive peak reverse voltage: 1000 V; (2)RMS forward current: 30A; (3)Average forward current, δ = 0.5: 12 A; (4)Repetitive peak forward current: 120 A; (5)Surge non repetitive forward current: 80 A; (6)Storage temperature range: -65 to + 175°C; (7)Maximum operating junction temperature: 175°C.
Features
STTH1210D features: (1)Ultrafast, soft recovery; (2)Very low conduction and switching losses; (3)High frequency and/or high pulsed current operation; (4)High reverse voltage capability; (5)High junction temperature.
Diagrams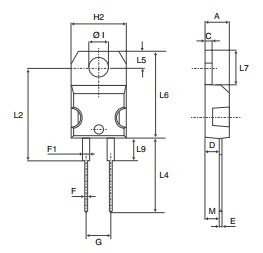 Image
Part No
Mfg
Description
Pricing
(USD)
Quantity

STTH1210D

STMicroelectronics

Rectifiers Ultrafast recovery high voltage diode

Data Sheet



| | |
| --- | --- |
| 0-1: | $1.27 |
| 1-10: | $1.02 |
| 10-100: | $0.92 |
| 100-250: | $0.82 |


STTH1210DI

STMicroelectronics

Rectifiers Ultrafast recovery high voltage diode

Data Sheet



| | |
| --- | --- |
| 0-1: | $1.46 |
| 1-10: | $1.18 |
| 10-100: | $1.03 |
| 100-250: | $0.91 |