Product Summary
The STTH3R06U is a turbo 2 ultrafast high voltage rectifier. The STTH3R06U is using ST Turbo 2 600V technology, is specially suited for use in switching power supplies, inverters and as a free wheeling diode.
Parametrics
STTH3R06U absolute maximum ratings: (1)Repetitive peak reverse voltage: 600V; (2)RMS forward voltage: 10 A; (3)Average forward current δ = 0.5: 3 A; (4)Surge non repetitive forward current: 55 A; (5)Storage temperature range: -65 to + 175°C; (6)Maximum operating junction temperature: 175°C.
Features
STTH3R06U features: (1)Ultrafast switching; (2)Low forward voltage drop; (3)Low thermal resistance; (4)Low leakage current (platinium doping).
Diagrams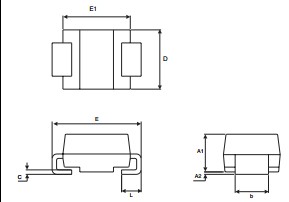 Image
Part No
Mfg
Description
Pricing
(USD)
Quantity

STTH3R06U

STMicroelectronics

Rectifiers RECTIFIER

Data Sheet



| | |
| --- | --- |
| 0-1: | $0.32 |
| 1-25: | $0.28 |
| 25-100: | $0.25 |
| 100-250: | $0.23 |

Image
Part No
Mfg
Description
Pricing
(USD)
Quantity

STTH10002TV1

STMicroelectronics

Rectifiers ULTRAFAST RECOVERY DIODE

Data Sheet



| | |
| --- | --- |
| 0-1: | $10.15 |
| 1-10: | $9.84 |
| 10-100: | $9.20 |
| 100-250: | $8.96 |


STTH10002TV2

STMicroelectronics

Rectifiers ULTRAFAST RECOVERY DIODE

Data Sheet



| | |
| --- | --- |
| 0-1: | $10.15 |
| 1-10: | $9.84 |
| 10-100: | $9.20 |
| 100-250: | $8.96 |


STTH1002CB

STMicroelectronics

Rectifiers 2x8 Amp 200 Volt

Data Sheet



| | |
| --- | --- |
| 0-1: | $0.43 |
| 1-10: | $0.38 |
| 10-100: | $0.32 |
| 100-250: | $0.30 |


STTH1002CB-TR

STMicroelectronics

Rectifiers 2x8 Amp 200 Volt

Data Sheet



| | |
| --- | --- |
| 0-1700: | $0.27 |
| 1700-2500: | $0.25 |
| 2500-5000: | $0.23 |
| 5000-10000: | $0.22 |


STTH1002CBY-TR



DIODE ULT FAST 200V 8A DPAK

Data Sheet



| | |
| --- | --- |
| 0-1: | $0.74 |
| 1-10: | $0.65 |
| 10-25: | $0.59 |
| 25-100: | $0.51 |
| 100-250: | $0.45 |
| 250-500: | $0.40 |
| 500-1000: | $0.32 |


STTH1002C

Other



Data Sheet

Negotiable