Product Summary
The TPA3123D2PWPR is a 25-W (per channel) efficient, Class-D audio power amplifier for driving stereo speakers in a single ended configuration or a mono bridge-tied speaker. The TPA3123D2PWPR can drive stereo speakers as low as 4Ω. The efficiency of the TPA3123D2 eliminates the need for an external heat sink when playing music.
Parametrics
TPA3123D2PWPR absolute maximum ratings: (1)Supply voltage: –0.3 to 36 V; (2)Logic input voltage: –0.3 to VCC + 0.3 V; (3)Analog input voltage: –0.3 to 7 V; (4)Operating free-air temperature range: –40 to 85°C; (5)Operating junction temperature range: –40 to 150°C; (6)Storage temperature range: –65 to 150°C; (7)Load resistance (minimum value): 3.2Ω; (8)Electrostatic Discharge Human-body model (all pins): ± 2 kV; (9)Electrostatic Discharge Charged-device model (all pins): ± 500 V.

Features
TPA3123D2PWPR features: (1)25-W/ch into a 4ΩLoad from a 27-V Supply; (2)20-W/ch into a 4ΩLoad from a 24-V Supply; (3)Operates from 10 V to 30 V; (4)Efficient Class-D Operation Eliminates Need for Heat Sinks; (5)Four Selectable, Fixed-Gain Settings; (6)Internal Oscillator (No External Components Required); (7)Single-Ended Analog Inputs; (8)Thermal and Short-Circuit Protection With Auto Recovery; (9)Space-Saving Surface-Mount 24-Pin TSSOP Package; (10)Pin-to-Pin compatible with TPA3120D2; (11)Advanced Power-Off Pop Reduction.
Diagrams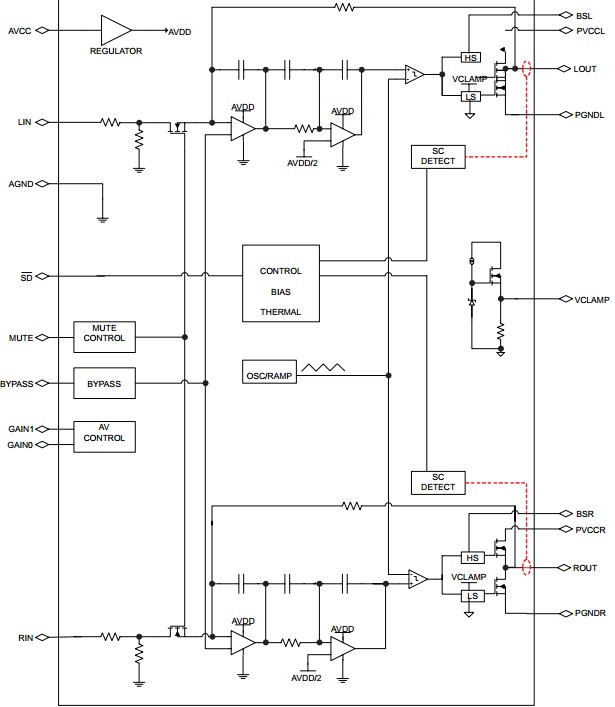 Image
Part No
Mfg
Description
Pricing
(USD)
Quantity

TPA3123D2PWPR

Texas Instruments

Audio Amplifiers 25W St Class-D Aud Pwr Amp

Data Sheet



| | |
| --- | --- |
| 0-1: | $3.02 |
| 1-25: | $2.44 |
| 25-100: | $2.21 |
| 100-250: | $1.94 |


TPA3123D2PWPRG4

Texas Instruments

Audio Amplifiers 25W Stereo Class D Aud Pwr Amp

Data Sheet



| | |
| --- | --- |
| 0-1570: | $1.34 |
| 1570-2000: | $1.32 |
| 2000-5000: | $1.31 |