Product Summary
The TLV70033DDCR is a 200-mA, low-IQ low-dropout regulator for portable devices. The TLV70033DDCR series of low-dropout (LDO) linear regulators are low quiescent current devices with excellent line and load transient performance. These LDOs are designed for power-sensitive applications. A precision bandgap and error amplifier provides overall 2% accuracy. Low output noise, very high power-supply rejection ratio (PSRR), and low dropout voltage make this series of devices ideal for most battery-operated handheld equipment. All device versions have thermal shutdown and current limit for safety.
Parametrics
TLV70033DDCR absolute maximum ratings: (1)Input voltage range, VIN: –0.3 to +6.0 V; (2)Enable voltage range, VEN: –0.3 to +6.0 V; (3)Output voltage range, VOUT: –0.3 to +6.0 V; (4)Maximum output current, IOUT: Internally limited; (5)Output short-circuit duration: Indefinite; (6)Operating junction temperature range, TJ: –55 to +150°C; (7)Storage temperature range, TSTG: –55 to +150°C.
Features
TLV70033DDCR features: (1)Very Low Dropout; (2)2% Accuracy; (3)Low IQ: 31 μA; (4)Available in Fixed-Output Voltages from 0.7 V to 4.8 V; (5)High PSRR: 68 dB at 1 kHz; (6)Stable with Effective Capacitance of 0.1 μF; (7)Thermal Shutdown and Overcurrent Protection; (8)Available in 1,5-mm × 1,5-mm SON-6, SOT23-5, and SC-70 packages.
Diagrams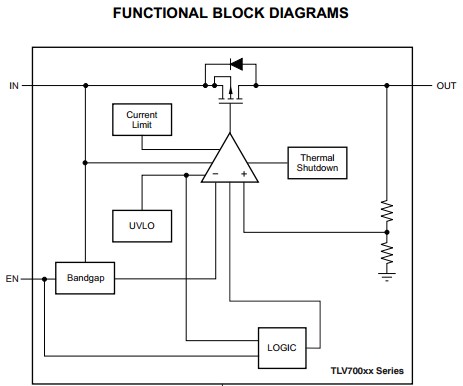 Image
Part No
Mfg
Description
Pricing
(USD)
Quantity

TLV70033DDCR

Texas Instruments

Low Dropout (LDO) Regulators 200mA Low IQ LDO Reg for Portables

Data Sheet



| | |
| --- | --- |
| 0-1: | $0.31 |
| 1-25: | $0.23 |
| 25-100: | $0.19 |
| 100-250: | $0.17 |

Image
Part No
Mfg
Description
Pricing
(USD)
Quantity

TLV70012DCKR

Texas Instruments

Low Dropout (LDO) Regulators 200mA,Lo IQ,LDO Reg

Data Sheet



| | |
| --- | --- |
| 0-1: | $0.25 |
| 1-25: | $0.20 |
| 25-100: | $0.17 |
| 100-250: | $0.15 |


TLV70012DCKT

Texas Instruments

Low Dropout (LDO) Regulators 200mA,Lo IQ,LDO Reg

Data Sheet



| | |
| --- | --- |
| 0-1: | $0.29 |
| 1-25: | $0.23 |
| 25-100: | $0.20 |
| 100-250: | $0.17 |


TLV70012DDCR

Texas Instruments

Low Dropout (LDO) Regulators 200mA,Low IQ,LDO Reg

Data Sheet



| | |
| --- | --- |
| 0-1: | $0.25 |
| 1-25: | $0.20 |
| 25-100: | $0.17 |
| 100-250: | $0.15 |


TLV70012DDCT

Texas Instruments

Low Dropout (LDO) Regulators 200mA,Low IQ,LDO Reg

Data Sheet



| | |
| --- | --- |
| 0-1: | $0.35 |
| 1-25: | $0.24 |
| 25-100: | $0.21 |
| 100-250: | $0.17 |


TLV70012DSER

Texas Instruments

Low Dropout (LDO) Regulators 200mA Low IQ LDO Reg

Data Sheet



| | |
| --- | --- |
| 0-1: | $0.38 |
| 1-25: | $0.30 |
| 25-100: | $0.26 |
| 100-250: | $0.21 |


TLV70012DSET

Texas Instruments

Low Dropout (LDO) Regulators 200mA Low IQ LDO Reg

Data Sheet



| | |
| --- | --- |
| 0-1: | $0.43 |
| 1-25: | $0.34 |
| 25-100: | $0.30 |
| 100-250: | $0.25 |