Product Summary
The STP9NK50ZFP is an N-channel 500V-0.72ohm-7.2A TO-220/TO-220FP/D2PAK Zener-Protected, superMESH power MOSFET. The SuperMESH series is obtained through an extreme optimization of ST well established stripbased PowerMESH layout. In addition to pushing on-resistance significantly down, special care is taken to ensure a very good dv/dt capability for the most demanding applications. Such series complements ST full range of high voltage MOSFETs including revolutionary MDmesh products.
Parametrics
STP9NK50ZFP absolute maximum ratings: (1)Drain-source Voltage (VGS = 0): 500V; (2)Drain-gate Voltage (RGS = 20 kΩ): 500V; (3)Gate- source Voltage: ±30 V; (4)Drain Current (continuous) at TC = 25°C: 7.2A, Drain Current (continuous) at TC = 100°C: 4.5A; (5)Total Dissipation at TC = 25°C: 110W; (6)Gate source ESD(HBM-C=100pF, R=1.5KΩ): 3500V; (7)Operating Junction Temperature: -55 to 150°C; (8)Storage Temperature: -55 to 150°C.
Features
STP9NK50ZFP features: (1)typical RDS(on) = 0.72 Ω; (2)extremely high dv/dt capability; (3)100% avalanche tested; (4)gate charge minimized; (5)very low intrinsic capacitances; (6)very good manufacturing repeatbility.
Diagrams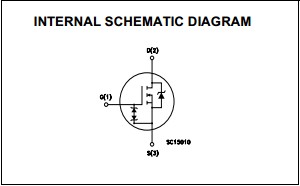 Image
Part No
Mfg
Description
Pricing
(USD)
Quantity

STP9NK50ZFP

STMicroelectronics

MOSFET N-Ch, 500V-0.72ohms 7.2A

Data Sheet



| | |
| --- | --- |
| 0-1: | $1.50 |
| 1-10: | $1.34 |
| 10-100: | $1.15 |
| 100-250: | $1.02 |

Image
Part No
Mfg
Description
Pricing
(USD)
Quantity

STP90N4F3

STMicroelectronics

MOSFET N-channel 40V MOSFET

Data Sheet

Negotiable

STP90N55F4

STMicroelectronics

MOSFET N-Ch 55V 0.0064 Ohm 90A STrip DeepGATE

Data Sheet



| | |
| --- | --- |
| 0-1: | $1.27 |
| 1-10: | $1.02 |
| 10-100: | $0.92 |
| 100-250: | $0.82 |


STP90NF03L

STMicroelectronics

MOSFET N-Ch 30 Volt 90 Amp

Data Sheet



| | |
| --- | --- |
| 0-600: | $0.95 |
| 600-1000: | $0.78 |
| 1000-2000: | $0.75 |
| 2000-5000: | $0.71 |


STP95N04

STMicroelectronics

MOSFET STripFET MOSFET

Data Sheet

Negotiable

STP95N2LH5

STMicroelectronics

MOSFET N-channel 25 V 80 A DPAK IPAK

Data Sheet



| | |
| --- | --- |
| 0-640: | $0.54 |
| 640-1000: | $0.46 |
| 1000-2000: | $0.44 |
| 2000-5000: | $0.43 |


STP95N3LLH6

STMicroelectronics

MOSFET 30V N-Chnl 80A STripFET VI DeepGATE

Data Sheet



| | |
| --- | --- |
| 0-1: | $0.91 |
| 1-10: | $0.74 |
| 10-100: | $0.68 |
| 100-250: | $0.59 |