Product Summary
The HCPL-0630-500E is a high CMR, high speed TTL compatible optocoupler. It combines a GaAsP light emitting diode and an integrated high gain photo detector. An enable input allows the detector to be strobed. The applications of the HCPL-0630-500E include: (1)Isolated Line Receiver; (2)Computer-Peripheral Interfaces; (3)Microprocessor System Interfaces; (4)Digital Isolation for A/D, D/A Conversion; (5)Switching Power Supply; (6)Instrument Input/Output Isolation; (7)Ground Loop Elimination; (8)Pulse Transformer Replacement; (9)Power Transistor Isolation in Motor Drives; (10)Isolation of High Speed Logic Systems.
Parametrics
HCPL-0630-500E absolute maximum ratings: (1)Storage Temperature TS: min=-55℃, max=125℃; (2)Operating Temperature TA: min=-40℃, max=85℃; (3)Average Forward Input Current IF: max=20mA; (4)Reverse Input Voltage VR: max=5V; (5)Input Power Dissipation PI: max=40mW; (6)Supply Voltage VCC: max=7V; (7)Enable Input Current IE: max=5mA; (8)Output Collector Current IO: max=50mA; (9)Output Collector Voltage VO: max=7V.
Features
HCPL-0630-500E features: (1)5 kV/μs Minimum Common Mode Rejection (CMR) at VCM = 50 V for HCPL-X601/X631, HCNW2601 and 10 kV/μs Minimum CMR at VCM = 1000 V for HCPLX611/X661, HCNW2611; (2)?High Speed: 10 MBd Typical; (3)LSTTL/TTL Compatible; (4)Low Input Current Capability: 5 mA; (5)Guaranteed ac and dc Performance over Temperature: -40℃ to +85℃; (6)Available in 8-Pin DIP, SOIC-8, Widebody Packages; (9)Strobable Output (Single Channel Products Only).
Diagrams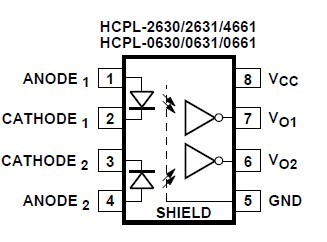 Image
Part No
Mfg
Description
Pricing
(USD)
Quantity

HCPL-0630-500E

Avago Technologies

High Speed Optocouplers 10MBd 2Ch 5mA

Data Sheet



| | |
| --- | --- |
| 0-1: | $3.04 |
| 1-25: | $2.48 |
| 25-100: | $2.21 |
| 100-250: | $1.99 |

Image
Part No
Mfg
Description
Pricing
(USD)
Quantity

HCPL-0501-500E

Avago Technologies

High Speed Optocouplers 1MBd 1Ch 16mA

Data Sheet



| | |
| --- | --- |
| 0-1: | $1.08 |
| 1-25: | $0.81 |
| 25-100: | $0.72 |
| 100-250: | $0.65 |


HCPL0531R2

Fairchild Semiconductor

High Speed Optocouplers 1Mbit/s HS Single Trans Output Coupler

Data Sheet



| | |
| --- | --- |
| 0-1: | $2.42 |
| 1-25: | $1.94 |
| 25-100: | $1.77 |
| 100-250: | $1.60 |


HCPL-0201-000E

Avago Technologies

High Speed Optocouplers 5MBd 1Ch 1.6mA

Data Sheet



| | |
| --- | --- |
| 0-1: | $1.95 |
| 1-25: | $1.60 |
| 25-100: | $1.42 |
| 100-250: | $1.27 |


HCPL0731

Fairchild Semiconductor

High Speed Optocouplers Dual Ch Optocoupler LCHG SplitDarlington

Data Sheet



| | |
| --- | --- |
| 0-1: | $2.27 |
| 1-25: | $2.03 |
| 25-100: | $1.66 |
| 100-250: | $1.50 |


HCPL-0630-500E

Avago Technologies

High Speed Optocouplers 10MBd 2Ch 5mA

Data Sheet



| | |
| --- | --- |
| 0-1: | $3.04 |
| 1-25: | $2.48 |
| 25-100: | $2.21 |
| 100-250: | $1.99 |


HCPL0730R2

Fairchild Semiconductor

High Speed Optocouplers Dual Ch Optocoupler LCHG SplitDarlington

Data Sheet



| | |
| --- | --- |
| 0-1: | $2.27 |
| 1-25: | $1.83 |
| 25-100: | $1.66 |
| 100-250: | $1.50 |